SUN 13th January, 2019 7:30pm
DAVE HOLDSWORTH'S
NEW BREW: WODGI
ASHBURTON Arts Centre
Old Methodist Church
West Street Ashburton Devon TQ13 7DT
Tel no: 07980680052
To purchase tickets via WeGotTickets please follow this LINK
*
Tuesday February 12th 2019. Doors 18.00
MIKE WESTBROOK'S
UNCOMMON ORCHESTRA
PURE GOLD
PURE GOLD Westbrook classics through Citadel/Room 315 to The Cortege, On Duke's Birthday, Big Band Rossini, A Bigger Show and beyond
@ Ronn
ie Scott's Jazz Club 47 Frith St, Soho
London W1D 4HT
From the review by Richard Lee in LondonJazzNews (15 February 2019):
The beautiful Tender Love & Bebop de Rigueur from Citadel/Room 315 featured the phenomenal Roz Harding on alto. She is such a powerful, confident player, easily holding her own with regular Westbrook reeds Alan Wakeman & Pete Whyman who themselves played magnificently throughout.
Follow this LINK for the rest of the review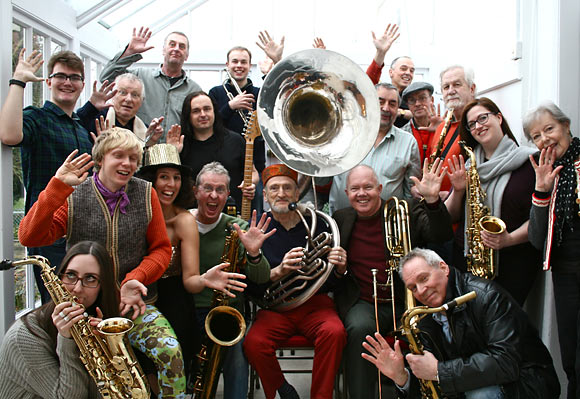 *
1 March 2019, 19.45 pm
Dave Holdsworth's

New Brew
Venue: 1000 Trades
16 Frederick St, Birmingham B1 3HE
0121 233 2693
Personnel: Dave Holdsworth- trumpet, composer; Alan Wakeman- tenor, soprano saxophone; Roz Harding– alto saxophone; Marcus Vergette - bass & Coach York- drums
Tickets:
Advance: £10.00/£7.50 Members/Students £3.00
On the door: £12.50/£10/£5
To purchase the album, please visit Jazz CDs
***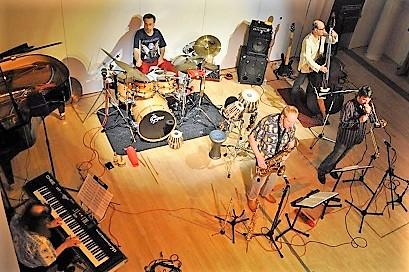 Interplay @ the Attenborough Arts Centre, University of Leicester, 2010.
Photo: Angela Jianu
Interplay
Alan Wakeman (sxs) Richard Baker (tbn) Neil Hunter (kbd) Adrian Litvinoff (bs) Dave Balen (dms, perc)
Wednesday 13 March, 8.00 pm
£12, £6 (students)
Stratford Jazz
Stratford Playhouse
14 Rother Street
Stratford Upon Avon
CV37 6LU
01789 333990
Thursday 21 March
8.30pm (doors 8.00pm)

£7.50 advance, £10.00 door
Club Chesterfield
Chester Street
Chesterfield
S40 1DL

Sunday 7 April , 7 pm
Alan will be performing with Dave Holdsworth's New Brew at:
The Globe Inn
9 High St, Chagford
Newton Abbot TQ13 8AJ
The quintet will be performing music from Dave Holdsworth's recently launched album, Wodgi
Buy the album on JazzCd
Follow this link for the Globe Inn's website
Sunday 28 July 8 pm
Marine Theatre
Church St, Lyme Regis, Dorset DT7 3QA
Box Office tel: 01297 442138
Tuesday 20 August, 8.30 pm
St Ives Jazz Club (Western Hotel)
St Ives, Cornwwall TR26 2ND
doors open 7.30pm, live music from 8.30 to 11-ish.
Tickets £ 13, 8, 5 on the door
Jazz Club, Hotel and venue enquiries 01736 795277
Wednesday 11 December 8.30 pm
Jailhouse Jazz Club
The Undercroft
Arundel Town Hall
Maltravers Street
Arundel, West Sussex BN18 9AP
Tel: 01903 889 821
Mobile: 07702 947 125
Email: info@arundeljailhouse.co.uk
Watch this space for further details and updates