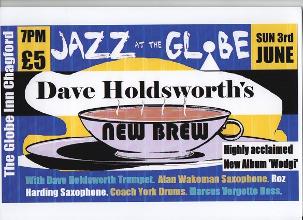 The launch of the new album by trumpeter and composer
Dave Holdsworth:
Wodgi
(Capton Records, 2018)
Personnel:
Alan Wakeman on tenor and soprano saxophone
Roz Harding on alto saxophone
Marcus Vergette on bass
and
Coach York on drums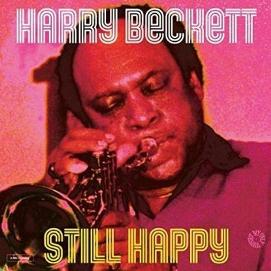 Artwork by Daniel Holdsworth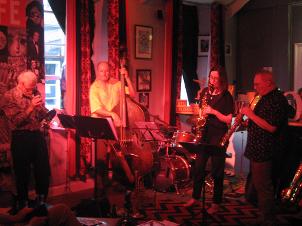 From left to right: Dave Holdsworth, Marcus Vergette, Roz Harding and Alan Wakeman (Coach York is not visible)
3 June 2018
Photo: Angela Jianu
My Only Desire Records, 2016
This unreleased session from trumpeter Harry Beckett, was originally recorded in 1974 for BBC Radio 2. Remastered from the original tapes, it presents a brilliant snapshot of music from the era, as he mixes turbo-charged jazz with his Caribbean heritage and the rock and funk of the 70s.
Beckett's group includes the twin saxophone line-up of Alan Wakeman on tenor and soprano and Don Weller on tenor saxophone, Brian Miller on electric piano, Paul Hart on electric bass, John Webb on drums and Robin Jones on percussion.
Click HERE for a link to the London-based My Only Desire Records, who have done a great job on the remastering and artwork.
Click HERE to buy on Amazon
Review by Richard Williams on thebluemoment.com website
Review by Sammy Stein in the Something Else! webzine, 4 June 2016
and
audio clip on YouTube
Different Times, Different Places

(vol. two)

Ogun Recordings Limited, 2016

Compilation of previously unreleased recordings featuring the music of bassist Harry Miller.




Click HERE for a review in JazzWise magazine